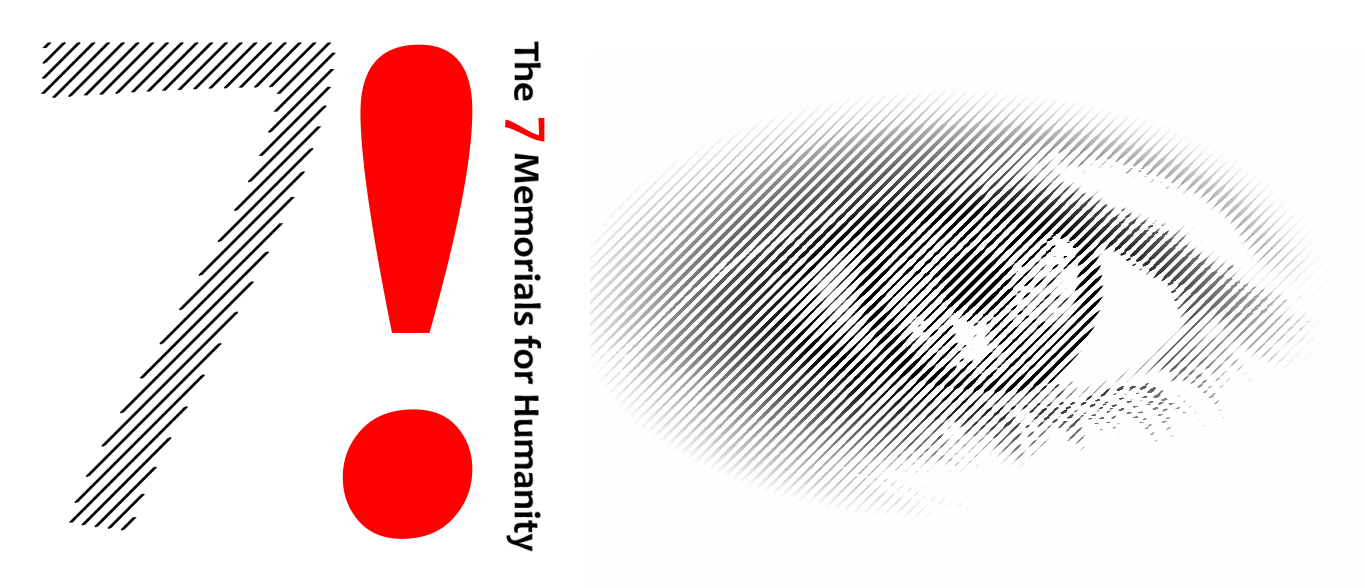 The 7 Memorials for Humanity
developed, created and curated by Wilfried Agricola de Cologne & released in 2019, the 7 Memorials Project is a multi-facetted digital media art context – a "platform for commemorating" – to be understood as a kind of multi-dimensional virtual sculpture – working in an exchange between virtual and physical space. While the memorial sites are located online for permanent – accessible 24 hours a day, 7 days a week and 365 days of a year, there will be temporary locations in physical space hosting a manifestation of one or more memorials to be complemented by interventions like screenings, a symposium, lectures, discussions, artists meetings, exhibitions, performances etc in order to reach a higher degree of sustainability by sensitizing people via art.
Commemorating can be understood as an advanced and, additionally, collective form of perception as the contrary of consuming in which the aspect of time is receiving generally a particular relevance – stimulating the "audience" permanently or at least regularly to be activated again and again and reflect and re-reflect – and, in the given case, also as a higher goal of art which goes far beyond the visual or sensual sensation.
Based on 7 differently aimed ongoing audio-visual media art contexts, launched between 2001 and 2020, the project is dealing with new forms of commemorating, respectively generating awareness, related to topics that really matter in the currently globally and locally escalating political, social, ecological and cultural situations endangering a free, open and democratic society and Humanity as that fundamental human value, at all. It is a plea to the contemporarily living people to keep and defend humanity as the highest human value also for future generations.
The Memorial context and its creator are acting as mediators between different parties by demonstrating diversity, eg. activating on one hand artists to articulate and contribute their (artistic) opinion, on the other hand by doing so, activating the audience to use the artistic interventions as the basis for their own reflections.
It is said, that art cannot change world as it is, but this is not completely true, art as the most human of all human expressions has that particular potential to sensitize people and change awareness, this way. However, it lies in the responsibility of the individual what he/she is doing with this awareness.
Each one of the incorporated memorials is rooted on another collection of audio-visual art, which can be experienced online. The Sonic Memorial is the only one using the non-visual medium of sonic art, generating different kinds of associations than the visual medium of video or film: for instance, The Refugee Film Collection, incorporating more than 100 videos from documentary to video art & experimental film.
As a media art work itself, the 7 Memorial commemorative platform is incorporating 20 individual projects acting individually as Memorials, commemorative projects contexts which are each one representing works of media art for itself, created by Wilfried Agricola de Cologne, simultaneously they are based on the engagement of (external) artists by contributing (mainly audio-visual) art works which form in the sum of all, related to each topic differently, individual art collections in a community based responsibility, curated and coordinated by Wilfried Agricola de Cologne.
The works created before 2010 are completed – standing as Memorial sites for a PAST to be commemorated, the works created after 2010 referring partially to historical, and partially to most recent incidents and events are ongoing and still in an active conceptual progress.
In total more than 2000 artworks by 1700 artists from 60 countries are forming the fundament of the commemorative platform and the individual Memorial sites, give the 7 Memorials project a multi-dimensional character – including & complementing each other: the global, as well as the local: while the online context is available 24 hours a day to the global community, the individual local manifestation to be realized in an exchange between virtual and physical space in collaboration with worldwide networking partners allow people to meet each other at venues that change their meaning and the awareness related to it by becoming a temporarily limited memorial & space of art.
The main medium of the active part is "art & moving images" – mono channel art films & videos in an hybrid format, allowing to present the works in different presentation formats, eg. screening, projection & installation.
The short films & videos are forming outstanding collections to be presented to an open minded audience, but together with other artistic media like digital static images and the non-visual medium manifested in sonic art – the form also the basis for exhibition installations of different kind, online and in physical space.
The manifestations are realized in the framework of "The W:OW Project" – We Are One World – https://wow.nmartproject.net – a global networking project, launched in 2017.

The 7 Memorials for Humanity
The Refugee Memorial – based on – The Refugee Film Collection – why and how become people refugees
d/i/light Memorial – based on Shoah Film Collection – dedicated to the victims of Holocaust
The Never More Memorial – no more genocide – dedicated to the victims of genocides
The Wake-Up Memorial – for an open and free society- against populism and intolerance
The Hiroshima // Fukushima Memorial – based on "The Hiroshima//Fukushima Film Collection – dedicated to the threats of nuclear power
The iTERROR Memorial – dedicated to the victims of terror
The Sonic Memorial – soundart as a tool for commemorating – collective trauma & identity
a digital media art project context created & curated by Wilfried Agricola de Cologne
Concept, text & realisation
copyright © 2001-2019 by Wilfried Agricola de Cologne
Included art works (video, digital, images, soundart, text etc & related images/screenshots)
copyright © by the artists or owners
The 7 Memorials for Humanity
are part of The New Museum of Networked Art
operated by artvideoKOELN
Contacts
Wilfried Agricola de Cologne
artvideoKOELN international
artvideokoeln (at) gmail.com
Privacy Policy
This site – https://7mfh.nmartproject.net – does visitors not allow to register, create an account, interact – publish articles, upload any media or post comments – it does not collect, archive or share any user data.
Embedded content from other websites
Articles on this site may include embedded content (e.g. videos, images, articles, etc.). Embedded content from other websites behaves in the exact same way as if the visitor has visited the other website.
These websites may collect data about you, use cookies, embed additional third-party tracking, and monitor your interaction with that embedded content, including tracing your interaction with the embedded content if you have an account and are logged in to that website.